FAQ
We are a little company with a lot of offerings. Someone may have already asked your question, check below to see if we've covered it, otherwise ask us.
Ordering
What are products are available at the window?
We have mini cupcakes, brownie bites, rice krispie treats and cookie sandwiches daily at the walk-up window. We also offer gluten-free mini cupcakes and vegan rice krispie treats. For flavors visit our monthly flavor guide.
Do I need to order my cupcakes in advance?
We can serve day-of, next-day and future orders. Please click here for additional information.
For larger and some custom orders we require additional notice. Please give us a call to discuss your needs 303.638.3528.
Do I need to prepay?
Online and call-in orders need to be paid in advance of pick-up or delivery.
Does Yours Truly Cupcake deliver?
Our deliver fee starts at $15 for small orders and increases based on distance from our location on Larimer or size of order. All deliveries will be made within 9:30am and 6:30pm unless otherwise requested and approved by a staff member.
Where can I pick up my cupcakes?
You can pick up your cupcakes at our Walk-Up Window during our regular business hours Monday-Saturday 10am – 6pm and Sunday 11am-4pm. Pick-up outside of these hours can be arranged in advance and for an additional charge.
Products
What do you make?
We pride ourselves to in making all of your sweet dreams come true. We have an extensive list of desserts for our catered events. We range from mini desserts to small birthday cakes, to hand-made pies. We will make anything your heart desires! Dessert Boxes and special occasion boxes can be ordered in advanced along with any of our monthly and staple flavors. There are timeframes and minimum quantities for speciality products and orders.
Do you make standard-size cupcakes?
Yes, we do make standard-size cupcakes with 24 hour notice for standard flavors or 48 hours notice for custom flavors and decoration.
Why mini cupcakes?
We recommend mini cupcakes because we cater to mostly adults. Standard-size cupcakes are often too big and too sweet for a general crowed. Mini cupcakes allows those who just want a bite or two to feel indulged without waste. And for those of us who crave more sweets, we get to eat a variety of flavors. Plus as opposed to a cake, there is room for different flavors and dietary restrictions without the need for plates, forks, and a knife to cut.
Do you bake cakes?
Yes, we do! We make everything from small birthday cakes to extravagant custom decor cakes. We do not stock any cakes at our walk-up window. Wedding cakes can be accommodated by filling out our wedding request form.
What about liquor-infused products?
Our infused cupcakes are flavored with your favorite beers, spirits and liqueurs. The amount in each cupcake is less than 0.5 percent. This eliminates the requirement for a liquor license and any chance of intoxication.
Does Yours Truly Cupcake offer any gluten-free or vegan cupcakes?
We will gladly bake gluten-free and vegan goodies. We require a minimum order and advance notice for larger orders. Please contact us to place your order.
Do you have nut-free options?
We do not maintain a nut-free environment. Many of our products do not contain nuts, but it is ultimately our customer's responsibility to self-regulate the products they choose to consume.
Can I create a custom order?
We are always happy to create products that bring your vision to life whether that's baking your grandmother's cookie recipe, creating your favorite flavor or creating hand-made decorations, fondant, marzipan, or gum paste decorations for special occasions including holidays, weddings, birthdays, baby showers, and bridal showers.
Custom decorations are offered for an additional charge and orders must be placed in advance. There will also be minimum requirements depending on the request.
What is the best way to travel with sweets?
We recommend that you keep the boxed desserts horizontal, in a cool space and out of direct sunlight.
How soon should I eat my sweets?
All of our desserts are best consumed day of delivery or pick-up. When this is not possible, we recommend the paper box is saran wrapped or the products placed in a sealed container and stored in the refrigerator.
Events & Catering
What type of services does Yours Truly Cupcake provide?
As a full-service dessert catering company, in addition to offering a plethora of desserts, we also offer rentals, staff, beverage service and interactive dessert services.
Does Yours Truly Cupcake rent cupcake stands?
Yes! We have stands and displays to match any theme or party. We have a collection of beautiful displays to ensure the look and feel of your display is the perfect fit for your event.
How many cupcakes do you recommend per person?
We typically recommend 2-3 mini cupcakes or 1 standard cupcake per person. It is important to take into consideration the type of event and the audience.
Does catering include on-site set up?
Yes. One of our team members would be delighted to come to your location and set up your cupcakes. Pricing depends on size of order and time required for set up. These details will be discussed during your consultation.
Does Yours Truly Cupcake offer individual boxing?
We have individual boxes for either 3 petite cupcakes or 1 grande. The boxes are white and include a flavor sticker and are sealed with Yours Truly Cupcake sticker. A specialized note can also be attached.
Additional Information
Are charitable donations available from Yours Truly Cupcake?
It is always a pleasure to support a variety of charities. For all inquiries related to charitable donations, please email us at Donations@YoursTrulyCupcake.com.
Do you ship desserts?
Yes! We can ship cookies, cookie sandwiches, brownie bites, French macarons, Royal icing cookies and certain pops. Our ordering guidelines are applicable and shipping charge is added to the order based on estimated cost.
Are there employment opportunities available at Yours Truly Cupcake?
Please inquire for current opportunities at Jobs@YoursTrulyCupcake.com.
Do you have gift certificates?
Yes, give us a call and we will be happy to provide a gift certificate.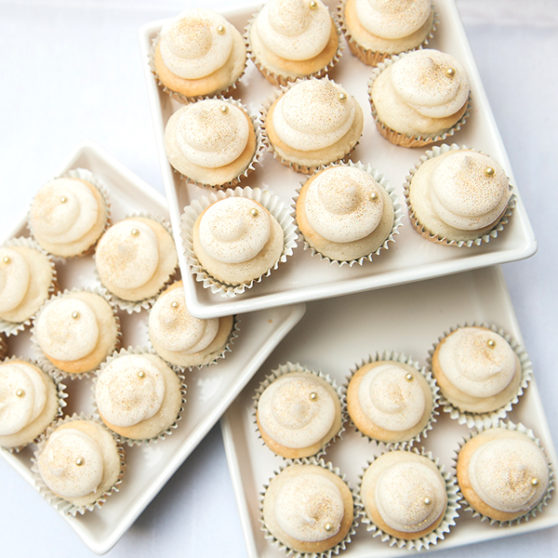 For more information, feel free to contact us:

Want to see more of what we provide?