Greetings from Yours Truly!
Yours Truly Cupcake reflects the sweet sentiment at the end of a love letter, for we believe all baked goods are made and given from the heart.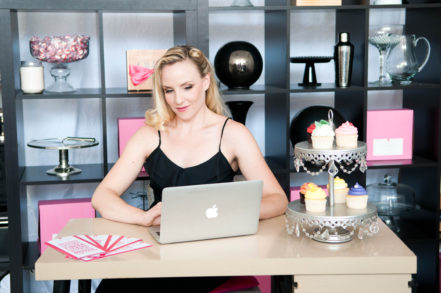 ∙ About Us ∙
Yours Truly Cupcake is the first company of its kind to enter the Denver market. Yours Truly Cupcake bakes the sweetest bites and operates with a keen eye for design, superior customer service and dedication to create truly memorable events for all occasions. Our team is made up of dedicated professionals; each one brings her own ideas and experiences to work each day. As a full-service caterer, we not only provide the most beautiful and delicious dessert options, we have the ability to design displays, provide staff and serve as the sole food and beverage provider at your event.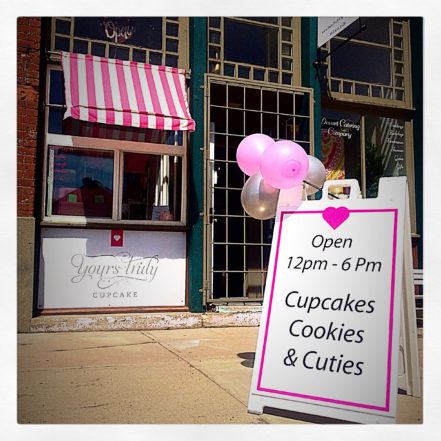 ∙ Neighborhood ∙
Located just north of downtown Denver, Yours Truly Cupcake is in the heart of The River North Art District (RiNo ), both a neighborhood and community organization that includes a remarkable concentration of creative businesses, including architects, art galleries, designers, illustrators, painters, media artists, photographers, and an array of studio spaces. The neighborhood is fertile ground for the arts and artists.
∙ Community ∙
We love to share our sweets. Yours Truly Cupcake regularly participates in neighborhood and community events in Denver and supports numerous local and national charitable organizations and foundations, including The Global Down Syndrome Foundation, Roundup River Ranch, Boys and Girls Club of Denver among many others. It is our honor and pleasure to provide sweetness to all those in need.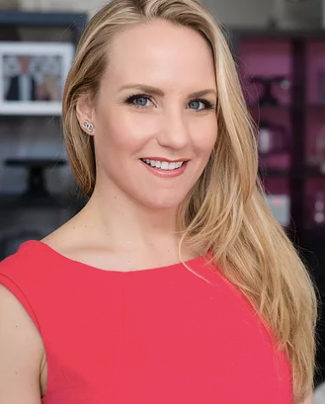 Tiffany Rose Goodyear
Founder + Owner
Tiffany Rose Goodyear received her Bachelor of Arts degrees in Philosophy and Political Science. She transformed her lifelong passion of baking from a hobby into a business concept. Upon graduation from University of Denver for her master's degree, she decided to stay in Denver and grow Yours Truly Cupcake. Over the next few years, the cupcake company evolved into a full-service dessert catering company specializing in events and corporate gifts. She found herself not only interested in her clients' culinary needs, but also began digging a little deeper from a communications perspective. She began asking her clients why they were purchasing a corporate gift or hosting an event; who was the target audience they were reaching; what the message was they wanted to convey; and what is the overall goal. She would then incorporate these details into their food choices, display, presentation and overall look; effectively capturing their branding and telling their story through touch, taste and smell.
Caitlyn Clausen
Cake Decorator + Assistant Baker
Meet Caitlyn! She is our team's Cake Artist and Lead Baker whose professional career originated in the realm of cake design, but is now expanding to include other baking skills as well. Originally from the east coast, Caitlyn graduated from Brookdale College's baking and pastry program in Asbury Park, New Jersey in 2014. Her bakery journey began in Philadelphia, where some of her cake creations gained significant attention both locally and internationally via social media. She relocated to Denver in 2017, and has been a part of the YTC team since 2019.
Aside from cake, Caitlyn's interests include traveling, gardening, and brewery-hopping with her husband and their dog.
Jennifer Hawkson
Sales Manager
Jennifer Hawkson is our Sales Manager here at Yours Truly Cupcake.  She brings over 10 years of experience in the hospitality industry, previously working in sales and event management at multiple hotels in the downtown Denver area.  Her main role here is business development, with a focus on building our future corporate and event sales.  Jennifer utilizes her years of experience in the industry to not only grow our relationships with current clients and organizations but also to uncover and establish brand new ones.  She is a native here who enjoys all things Colorado; from skiing, to camping, to attending lots of outdoor live music events in Denver and the mountain areas.
Testimonials
What People Are Saying
Gina Rodriguez, Business Travel Manager, Halcyon Hotel
"They are the best around for corporate gifts, personal gifts and customized treats. Tiffany is always willing to help and turn around last minute orders with precision and quality. My clients rave about how beautiful and delicious the cupcakes are every time. I highly recommend them for any of your cupcake needs!"
Jennifer + Ryan, 2018 Wedding
"All of the staff at Yours Truly Cupcake went above and beyond to make our wedding desserts special! Everyone raved about how good the mini cupcakes were and the cake they made was especially delicious! I would recommend them to ANYONE who wanted something different and exciting at their wedding!"
Nancy Sagar, Public Relations Manager, Neiman Marcus Denver
"Whether it is recreating sugared cameos for an estate jewelry trunk show, or building a completely edible nutcracker stage for a holiday collection launch, Tiffany and her team truly know how to capture the essence of the designers we highlight by designing a sensorial experience that is unparalleled in imagination and taste!"
Carolyn Zacchino, Sr. Manager Client Services, Hermès of Paris
"It has been a pleasure working with you and look forward to more opportunities throughout the year. Everything in Palm Beach went really well thank you!. They did a lot in sales so all good."
Grace Anshutz, Special Events Coordinator, Roundup River Ranch
"As the Special Events Coordinator at Roundup River Ranch I have the opportunity to work with many vendors- Yours Truly Cupcake is one of my absolute favorites because of the passion and energy Tiffany and her team bring to each project. Not only are the desserts delicious but they are also beautiful- each year we bring Tiffany the challenge of a new theme and each time we are blown away by the final product!"
Jessica Haddix, Events Manager, Global Down Syndrome Foundation
"Tiffany and Erika with Yours Truly Cupcake are absolutely fabulous to work with! They are always willing to work with our budget and time constraints. It is such a wonderful non-profit partnership and we always look forward to the beautiful and of course delicious goodies they display!"